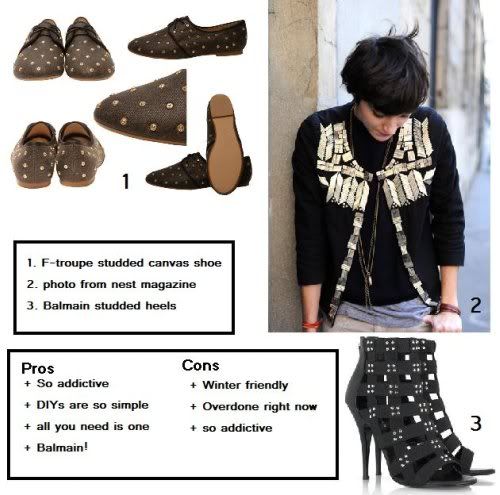 Personally I like both but in moderation. I agree with
Miss Woo
and
Picked Pics
, there should be a definite return to the simple and clean. Where I live studs, ripped clothes, etc. are kind of a uniform. That is okay sometimes but I definitely like it when I see someone around that puts effort in making there clothes presentable.
I've decided to do a fun Pros and Cons using this cool site called
picnik.com
. I recommend it for the Photoshop illiterate like myself. Shoes featured can be found at
F-troupe's website
.
ALSO
Face Hunter Show is on now, fashionistas and blog fanatics a like tune in!
Paris part 1 from The Facehunter Show on Vimeo.
being that I am the later and not the former I am stoked. This episode he explores the change that street style snap shots and fashion blogs have caused. I mean, I love him to death, but I didn't realize the Satorialist was so short. Maybe I am just hatin' because he is in Paris talking three languages with Yvan and I am stuck inside with East Coast rain.